Hip Microfracture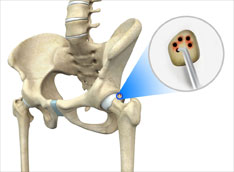 What is Hip Microfracture?
Hip microfracture is a marrow-stimulating technique performed to repair localized hip cartilage injuries or lesions which may not heal on their own. At the site of cartilage damage, small holes are created which stimulate the growth of new cartilage.
Indications for Hip Microfracture
Microfracture may be indicated to repair chondral lesions that occur in conditions such as:
Hip Dislocation due to injury
Legg-Calves-Perthes disease
Labral Tears
Developmental dysplasia of the hip (hip joint is abnormally formed)
Slipped capital femoral epiphysis (femoral head slipping backward)
Hip impingement
Contraindications for Hip Microfracture
This technique is not recommended in older patients or those suffering from osteoarthritis, which is characterized by a generalized loss of cartilage over the joint.
Surgical Procedure for Hip Microfracture
Hip microfracture surgery involves the following steps:
You are given general or neuraxial anesthesia.
A foot stirrup is used to enable distraction of the operative leg.
An arthroscopic portal about the size of a keyhole is established.
An arthroscope with a miniaturized camera is used by your surgeon to view the damaged tissue.
The lesion is examined to determine its size with the help of an arthroscopic probe.
An arthroscopic curette is used to remove calcified cartilage.
Your surgeon performs arthroscopic picking (using a small pick-like structure to create holes).
The holes are separated from each other by 3mm to 4mm.
A shaver is used to clear the debris accumulated over the holes to obtain clear open holes.
Marrow flows out of these holes which helps in the formation of new cartilage.
Recovery after Hip Microfracture
To maximize healing of the fibrocartilage, physical therapy rehabilitation will begin almost immediately after hip microfracture surgery and may include several hours of passive motion therapy for about 2 months.
Am I the Right Candidate for Hip Microfracture?
Not every chondral lesion requires hip microfracture treatment. You may be an ideal candidate for the procedure if:
The chondral lesion is a focal injury
The diameter of the injury does not exceed 4 cm
The lesion is a full-thickness defect in a weight-bearing area of the hip
The subchondral bone is intact
There is absence of chondromalacia (softening of cartilage)
You are willing to follow postsurgical rehabilitation instructions